Last week we saw how we can boost a Facebook post to try to reach more people, the basic rules to follow and how they affect advertising for an erotic book.
At some point, if you remember, I wrote that there was a better way to do what we were doing. Indeed, there is.
In the first two experiments, I tried to target my audience using the basic tools that the Facebook Boost interface gives to the page admin. But it wasn't enough for my needs.
Of course, if you write in English and you want to focus on a particular target, suitable for your audience, choosing English speaking countries and housewives who like to read (pretty much every one of them?) doesn't provide the right level of precision. I needed more powerful tools, and Facebook Adverts Manager seems exactly what I was looking for.
So, I absolutely recommend using Facebook Adverts Manager to create and manage your Ads and your Boosts posts. It allows you full control on your campaigns, budget, targeting.
And even if you still don't know it, you definitely need it.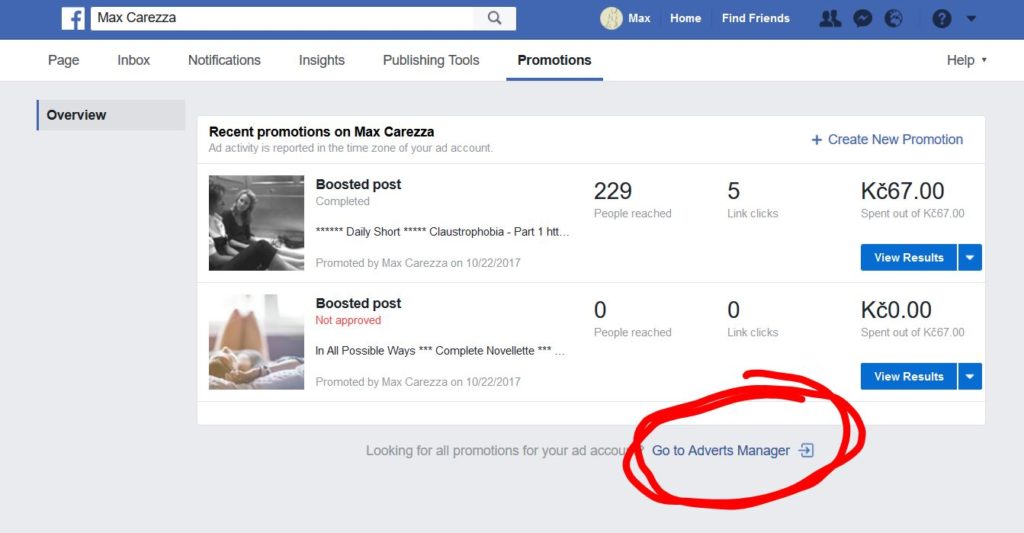 (The boosted posts from the Facebook page are NOT visible in the Adverts Manager, at this time)
A Better Experiment With Facebook Ads
First of all, be aware of the fact that I'm still learning how to use this platform too. There are a couple of articles that are very useful and I read only too late (like this one: Structuring your Facebook Campaigns) and as such my current Campaigns/Ad Sets structure is completely off. I'll do it properly from now on.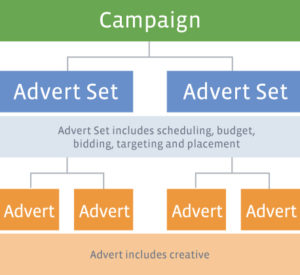 That said, I'll focus on the actual single Adverts now, not on the way to utilize the software at its best, based on the hierarchy above.
Your First Ad With Facebook Adverts Manager
First, create a Campaign and set up its objective. This objective can change from getting likes and interactions ("Engagement" campaigns) to "Brand Awareness" and actual conversions.
If you're trying to get yourself a name, Brand Awareness may be the right choice; if you're trying to sell a book you already publiushed, Conversions may be the natural option for you.
Choose what benefits you the best.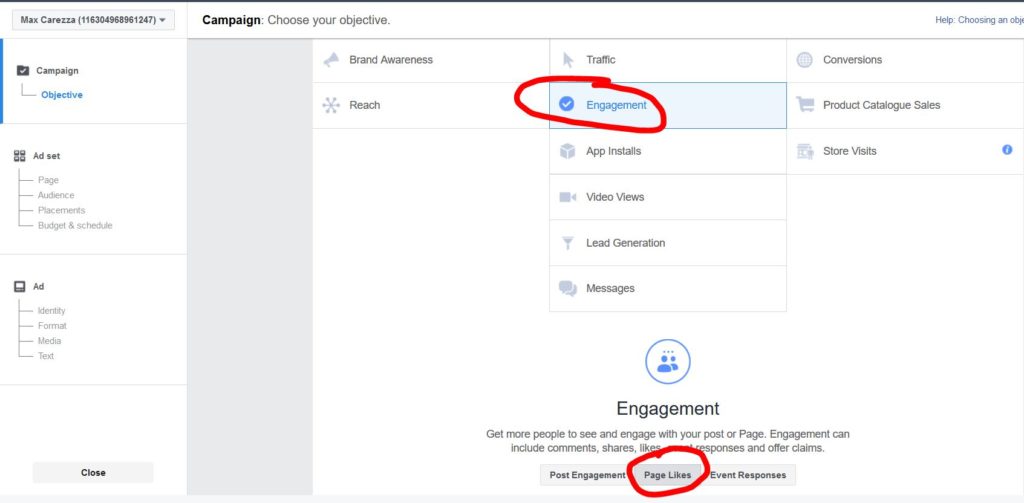 Once done, you can proceed with the definition of the Ad Set (remember the hierarchy above). In this section you can create a target audience for your ads.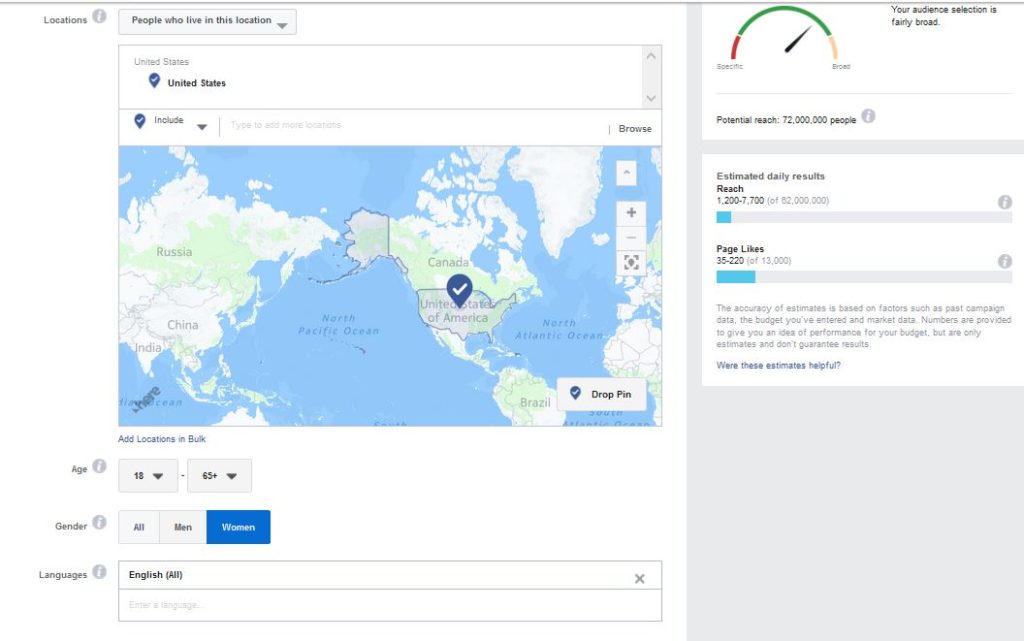 Two things to notice here:
This is a better tool to define your audience here, compared with the options in the Facebook Boost Post interface. Here, for instance, you can target languages.
You can reuse the created audience for future Campaigns and, more interestingly, for Post Boosts. This makes them more useful than we thought in our first experiments 😉
During the creation of your audience, I suggest looking for interests that match with your book. In our case, you may check for people who are interested in romance books, or authors/series similar to yours.
Leave Placement section untouched (it's advanced stuff for now) and proceed defining a Budget. This budget is defined for Ads Set, not for the single ad. It means, likely, all your ads in the set will rotate and show in the Facebook user pages, sharing the same budget.
Now it's time to create your actual, single Ad, but we'll speak about this in details in a later post. For now, take a look at one of mine: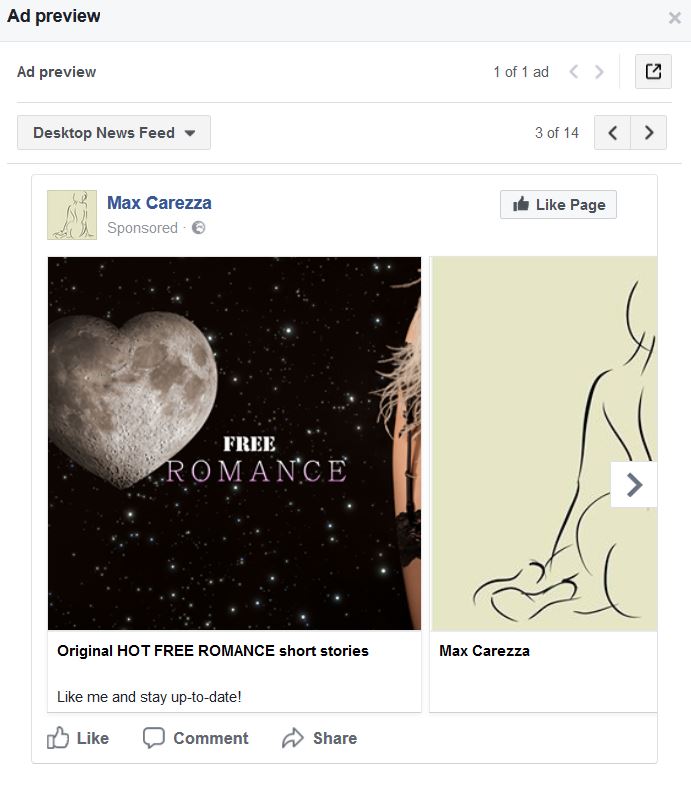 Results
Here the results of one of my advert run.

In my case, I reached 1,905 people and obtained 130 "Estimated Ad recall lift" with an investment around 7$.
Next time, I'll point to Page Likes and see which return of investment I can get.
Conclusions
There is a zillion of things that can go wrong here, but in most of the cases, your advert will simply not be approved and you'll pay nothing.
Once it'll be running, though, you need to be sure you have chosen your target audience in the right way, to maximize the results.
Do your own experiments creating different Ads Sets in the same Campaign and comparing the results.