The King of My World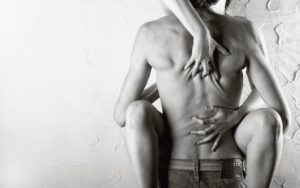 Of course, I was wet!
The entire morning at the pool with him lying at my side; all the time looking at his muscular body – he complains about his little belly but I adore it! – and furtively caressing it while keeping an eye on our friends around, not to be seen adoring him so much.
Bathing in the pool, playing with each other under the water, touching and teasing ourselves in a way I have never experienced in my life: with a smile on my face screaming the world my happiness. His way to play hide and seek, to hug me, making me feel his hardness, and then swim away leaving me there, needy, trembling with excitement.
But all that playing had a purpose, of course. We knew we'd find a way to finally burn the passion that was growing inside us.
I was trembling with anticipation when the others left us. They had other plans for the afternoon and we ended up alone, together, finally. It felt natural to hold his hand when he gave it to me out in the street, and yet it was such a new experience for me: feeling his body, showing our affection in public, without any fear. Really, I felt like his princess.
And my pussy was dripping because of his charisma, because of the new self-confidence in his eyes as he planned his next move.
God! Of course, I was wet!
We walked for almost an hour under the hot sun of that unknown town, looking for the perfect place to vent our animal instincts. I thought more than once that it was going to be difficult: all the nice spots were closed by fences, or too risky for what we had in mind. He seemed confident all the time, though. He reassured me we'd find a place. He kissed me, put my hand on his crotch so I could feel how excited he already was. At that moment I knew he'd really find a way for us.
"This is the perfect place," he said looking at an abandoned building. We had already reached the outskirt of the town.
It was a huge old building in ruins, maybe a former hospital or military barracks. I didn't care: it really seemed the right place for us: far from the street, partially hidden by bushes and trees wildly grown by the years. This time, it felt as if he knew there'd be a way to enter, to climb the plot. Was it really his first time there? I wondered when he found the hole in the fence, jumped inside and reached out for my hand to help me.
Time flew by, and we were inside the old building already. Debris around us, dust everywhere, and yet the perfect place for us, because we were there, together. I would know only later that there was an open window just a couple of meters away, conveying our moans to the open.
I kissed him, he kissed me, but there was soon no "he" nor "I" between us, anymore. It was our bodies connected in long-awaited passion, our tongues sucking each other, our hands roaming over our bodies craving the touches that we couldn't gift ourselves before.
It was his cock, standing proudly in front of my eyes, and my mouth eager to eat it. My tongue tasting each of its spots, my lips caressing his shaft as I pushed it down my throat, feeling full of him, completely his.
Then his hand on my hair, pulling me up and turning me around, bending me in front of him, forcing my legs open. I didn't mind it, of course: he is my strong man and this is what I always crave for, what I need to feel his!
His cock was hard, excited. I felt it pulsating inside me as he pushed it all the way in. When he started to pump it inside me, it hurt. I screamed, I told him he was hurting me, and that was the truth! But I know this pain and I have learnt to appreciate it, and he knows it.
Actually, my ass thrusting harder towards his cock may be what told him that my words were just a legacy of the shy me that, right now, was somewhere I couldn't – and I didn't want to! – find.
Because right now I felt myself, finally. Totally his; his cock pushing inside me, his fingers grabbing my hair and pulling my head back, sometimes to kiss me, sometimes just to tell me who was in control. It's a nice game we play.
I felt naughty, dirty; horny as ever. I felt his woman.
I shivered, I trembled, and yet I was somewhat unsatisfied. I needed to ride him, I needed to kiss him while I felt his hardness inside me, and there was no way to do it now, here, in this mess of dust and debris. And even in the middle of all that passion, of all that happiness… I felt frustrated.
I really needed it.
I tried to turn around, to stand, to lift a leg. But he's way taller than me, and even if he managed to slide his cock inside me again, even if I felt him inside like that… this wasn't going to work.
My frustration rose. I'm sure he felt it. I'm sure that's why he did what he did, something he'd never done, something I'd never think he could pull off – unfaithful girl!
He grabbed both of my legs, pulled me up, and as I was finally above him, kissing him and holding onto his shoulders, he pumped his cock into me me like that.
I wasn't even riding him: I was flying guided by his arms, I was light like a butterfly.
This is why he's my King.
He knows me, he listens to me, he provides more than I expect.
And then, finally completely happy, I knelt in front of him once again, I took his cock in my mouth and let him finish there: I had wanted to taste his cum all day, I couldn't live without it anymore.
He flooded my mouth, my throat. He dirtied my lips, my chin, and then told me not to clean myself: he was going to show me like that for sometimes on the streets of that unknown city, he was going to be proud of me.
I felt goosebumps, again: there was nothing I wanted more than screaming to the world how proud I am of him, actually.
He really knows me, he really listens to me.
Because he's my King, the King of my world.