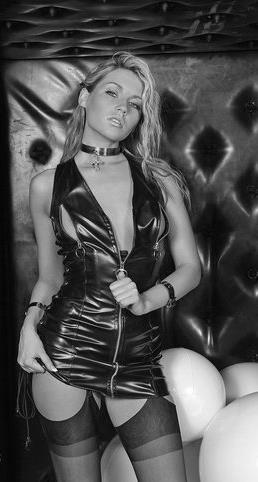 You wore your black leather skirt and matching black stockings, today, and a lace top covering your nudity just enough to tease him, our new slave.
He is kneeling by the sofa while we sit on it, drinking coffee and chat, and he massages your feet.
I ordered him to do so, and he started as soon as I asked. He is wearing only boxers, of course, because the first thing I asked him was to get naked. I wanted you to check his body, to see if he's suitable for you. And it's nice to see he has gotten excited as soon as he touched you.
We make fun of him, you scold him, asking to massage you better, and I push his face against your feet ordering to kiss them.
He follows my commands without faltering. You lift a leg closer to his face and I notice he raises his sight to try to get a glimpse of your pussy. He can't know it's covered with sexy black lace panties… but I do know, and I am so horny because of it; because he's so close to seeing your sex.
You hold my hand on the sofa, I feel it grabbing me stronger every time you get shivers. Sometimes because of the tickling on your feet, sometimes it's just excitement to expose yourself to a new slave.
Well, I knew you'd liked it. When you saw his photo you noticed his hairy chest and got so horny thinking about caressing it, getting your fingers to intermingle with his hair, and surely smell it afterwards. I know you love the smell of a horny man. When he abided by your request to send you a pic of his cock, you were so excited… this thrill of the unknown you've always loved. When we got the photos, you licked your lips looking at it. I remember I fucked you doggies-style, as you watched to that cock, so smooth, nice, and so similar to mine. I know you were thinking of holding it into your hands.
I smiled, thinking we had started looking for a slave with a small cock, in the beginning. And we found one with a 7-inches one. In the end, it just needs to allure you, and it managed to. This slave seems to be particularly educated, too. He is polite, he abides by our needs and asks for nothing in return.
Just to be there. Perfect for us.
I stand up, lean towards you and kiss you deeply, then kneel on the sofa at your side, as I continue playing with your tongue.
You moan into my mouth, I know it's because of me, not him, even if he seems to be doing a good job taking care of your feet and legs.
I take your hand and place it on my cock, still covered by my trousers.
You moan again, you must have goosebumps now, I know it… you don't know what to do, you don't dare to make the first step… and so I guide your hand, rubbing my cock up and down with it, caressing it until you continue by yourself, until you crave for it so much that you pull down my trousers without thinking we're not alone.
The slave looks up. My eyes tell him to lower his sight and get back to adore your feet. Which he does. He kisses and licks your fingers, covered only by that thin layer of nylon, while you take your time to enjoy the smell my cock, an inch from your lips and nose, intoxicating yourself with the scent of my pre-cum. You linger into that moment even if you feel the need to engulf it with your mouth already.
Soon, you bring it to touch your nose, then slide it down to your closed lips, wet them with my sweet honey as you instinctively push your foot harder against his face. You open your mouth and start gently sucking on my cock as he serves you, doing the same sliding his tongue up and down your toes and soles. Your legs are spread now, you've already forgotten to be shy…
I see he still raises his eyes every now and then. I bet he is now seeing your panties. I bet he wishes to see you naked soon, and I bet he envies me because it's clear you are so good at giving me head. Because I'm smiling, pushing and pulling my cock in and out of your mouth while I caress your hair. Every now and then I give him light kicks, when I see he raises his head too much, or when his hand slides above your knee. I know he is getting crazy of course, who wouldn't? But we need to educate him to listen to us, to respect your limits. He'll eventually touch your thighs, your pussy. He'll be asked to smell it, to lick it. But not now.
I do provide him with a good show, though. I'm now fondling your breast as you lick me… teasing your hard nipples from outside your top, making you even more excited. Ooh, if he could see what mess there must be inside your panties right now! I'm sure your thick cream is sticking your panties to your pussy, I'm sure he'd enjoy looking at the web of sticky cream covering your open lips, he'd enjoy being asked to clean it.
Then my hand slides on your chest, inside your top, and it's soon on your naked tit. I give him another kick, this time right between his legs when I see his hand sliding there.
You notice it, and you tell him he's not allowed to touch himself yet, you tell him that he is a bad slave if he doesn't give himself completely to his Mistress and Master, but instead think about his own pleasure.
And when you reach down to him and slap him, just hard enough to make it clear who's the slave and who's the owner.
You're finally into the game.