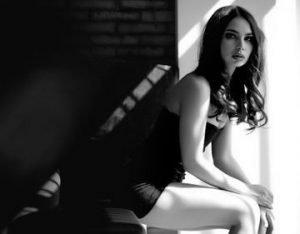 "You're the prettiest model I've ever photographed, he
said." Sylvia thought, recalling the words he had said her just a couple of
minutes before.
She was looking at a strange and funny scene. The man that
had shot her until that moment was staring
at her, and just a couple of seconds later she noticed that he had started
caressing his groin. Then, not caring
about her presence – or better, her presence was the very reason he was doing so -, his hand moved straight to his
crotch and began rubbing his cock from the outside of his trousers.
Of all the strange things that had happened to her in her modelling
career, that was probably the strangest.
Sylvia had had sex with photographers before. Glam and naked
modelling sometimes lead to that – if she wanted to – and there were lots of
handsome photographers out there. She had refused advances too, on multiple occasions. Men using the modelling
as an excuse to put their dirty hands on
her skin, pressing their stiff cocks against
her body to "suggest" every kind after-shooting
leisure. They meant other types of shooting, of course.
In this case, though, this man had been very sweet the whole
session, very respectful to her times and to her needs. Slowly, he had eventually managed to get her completely naked. He had
freed her so much of her worries and
inhibitions that she had done such daring shots she had never thought she could
– nor would like to.
And yet, this old man
in his sixties had managed to do achieve
that. Now, looking at him, Sylvia didn't feel angry. She was looking at a man
who had – probably – no way to obtain a girl like her in his life, apart from taking shots
of her. She wasn't stupid: she knew some of those shots were way too bold for
the calendar they were working on and he was probably going to keep them for
himself, to use them for his pleasure.
But it seems it wasn't enough. She looked at him, straight
in his eyes, then looked down. He had pulled out his cock. It was hard and
thick, even if not too long. She enjoyed the details, wondering how it was
possible that she was feeling so calm. She realised
that the sight of that man, so aroused by her presence, had somewhat turned her
on too: a trail of juices was pouring
down her pussy, wetting her inner thighs.
She surrendered to that strange feeling and decided to be natural, to do whatever she wanted to do. Indeed, everything felt as the right thing to do. Even when she turned
around to face him and spread her legs. Even when she slid her hand down and
with two fingers opened her pink pussy, showing him she was excited too.
He stood up. He thought he could approach her, but she
stopped him halfway and set him back. He had to be there, he had to sit there,
and enjoy the show. She didn't want that man to touch her and she didn't want
to touch him. But she wanted to please him.
Sylvia had never felt so slutty and sexy t the same time.
The eyes of that man told her he was adoring her. They told
her he didn't want anyone else: just that beautiful body that he had just shot,
that he had known as good as only a few man in
her life.
She slid a finger inside her pussy
and began masturbating. The man slowed down his hand; he was probably already
on the edge. She smiled mischievously – happy to ascertain the effect she had on him – then began pumping her finger
in and out of her pussy.
Every now and then, she would bring her finger to her mouth
and suck it looking straight in his eyes, then slid it back deep inside her pussy.
The whole situation had indeed excited her so much that she, too, was not so
far from reaching her orgasm. For the first time, she was enjoying to be looked at, and she wanted to be even sluttier
for him.
She stood up, turned around and bent over the bench, her legs spread enough to show him her pussy and
ass. There was nothing he couldn't see anymore, in that position. She reached
her pussy with a hand and slid two fingers inside her, from below. Then took
them out and rubbed her clitoris, exposing it to his sight as she noticed,
looking down between her legs, that he had started
beating his cock faster.
She began to moan loudly. Louder than she would have done
normally, but she wanted him to hear she was enjoying that moment too. And when
she finally came, her orgasm was completely true, without any trace of faking.
Her body trembled under the waves of her pleasure, her pussy pulsated asking
her to push her fingers deeper, until everything faded away.
Sylvia sat on the bench and looked at the man. He was still
gripping his now flaccid cock, and in front of him, on the floor, she could see
the outcome of his pleasure.
She smiled at him more like a daughter would do a father, than an escort to a lover.
Then stood up, slid
her short dress down and went back to the modelling stage.
"Let's finish this calendar, will we?"