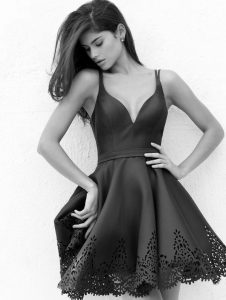 "Is this some kind of boyfriend experience night?" She joked, sitting at the table while pulling down the short dress to cover at least half of her upper legs. In front of her, there were two sets of red and white dishes, glasses and cutlery. In the middle of the table a single, red candle. The small flame flicked and popped, reflecting on the glasses and the silverware, livening up the environment around them.
Rick sat down and poured white wine in their glasses. Then they toasted.
"It is, definitely. Hope I'll not cost me a fortune!"
But she knew she had already begun paying, and anyway, after a couple of glasses of wine, she forgot about the entire premise of the evening. She really felt as if she was her girlfriend, and that was the best romantic evening she had had in a long time.
Even when he invited her to dance and their two bodies began to rub each other, she never felt unease. And when his hands started to slide on her back and down on her ass, she was long dripping wet.
So, Dana was the one to kiss him first. She took possession of his lips, biting them and sucking them, carried by the passion she had stored for the past months, the passion she had decided to give to this man. Then she sucked his tongue, licked it, bit it again and again until she was sure what stood between them, pushing on her mound, was nothing else but the prove he was as excited as her.
Rick's hands, moreover, were the one of an expert lover. He was caressing her ass through the dress, just occasionally touching her naked skin. He was rubbing his chest against her, purposely teasing her hard nipples, but still… he wasn't taking charge of the situation. Dana didn't know what to think about it, but she tried to concentrate on the pleasure of the feeling of a man dedicated to her, of his attentions to her body, of his kisses that had begun tracing their way from her lips down, looking for her tits.
He slid the dress a little down, and both her breasts fell out of it. She felt his warm breath on her naked areolas and a moment later his mouth was already playing with her sensitive nipples, his tongue circling around them, his teeth gently marking their hunting territory on her skin.
Then she felt one of his hands reaching in front of her, between her legs. His caresses on her thighs, his fingers pulling aside her drenched thong and – when she slightly spread her legs to ease him in – diving inside her pussy. She quivered, moaned, groaned as he pumped his fingers inside her in a way she had never let any man to. He was strong, determined, and yet tender; Rick simply knew how to touch a woman.
He pulled a nipple with his teeth, then the other, and while the hand on her back groped her naked ass, the one in the front restlessly rubbed her clit and teased her pussy. Even with the music playing, she could hear the noise of his fingers pumping in and out of her. In that moment, strangely,  the thought of that man pleasing her, knowing he was turning her on so much, drove her beyond the limit she had unconsciously been setting on herself.
And she cummed, moaning her satisfaction on his shoulder, biting his white shirt unconcerned of the pink, lipstick marks she was leaving on it.
Dana's head stopped to spin after a while. She had just been pleased, but she was still horny: she needed that man inside her. She slid a hand below and touched his groin. She felt his hard cock pushing on his trousers, already trying to find its way out, and so she started unbuttoning his trousers.
But at that moment, he stopped her.
"This will be enough for today, I think you better go home."
If there was an ending she had never expected for that night, it was that.