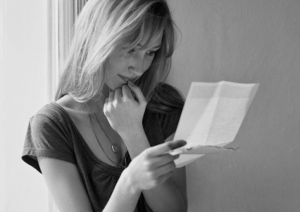 "Can I come in?" She asked before entering, then closed the door behind her.
She was in a huge living room. On the left a corner sofa in front of a big televisor and some furniture. On the right a table and the kitchen covering one of the walls entirely. The entire wall in front of her, though, was completely made of glass, giving her a nice view of the rest of the city below them.
"Welcome! Come in."
It was Rick's voice, at least she didn't get the wrong apartment, she thought, then followed the voice until she reached him.
He was standing in a corner of the kitchen, not visible from the entrance, cutting some vegetables. He washed his hands and greeted her with a light hug and a kiss on her cheek.
"You look beautiful,"
Everything felt normal, but his lingering on her cheek, a little too close to her ear. And she soon knew he'd done that on purpose.
"and you smell nice too," he added, with his usual boldness.
"But I don't think you're dressed properly for tonight. Please, go to that room: I prepared something for you. Hope it'll fit."
"You prepared what?" She looked amused but soon realised there was no reason to. The game had already begun. From that position, she could see an open door a couple of meters away and inside, on a bed, some boxes.
"Ok, I'll see if it fits," she said, walking to the room, then closed the door behind her back.
She caught her breath. He was wearing dark trousers and a light shirt: she'd always liked those clothes on a man. Moreover, that brief contact with her skin had agitated her. They had never exchanged even a kiss on their cheek before. Never.
Then she looked at the boxes.
One was containing a pair of high heels blue sandals, the second a blue dress.
Dana took off her jeans and her blouse and tried both shoes and dress. Everything fit perfectly, and she wondered how he had managed to guess her sizes.
She looked at the mirror. The blue dress was cladding her body up to her chest, revealing her gentle curves. Her blonde hair fell on her naked shoulders down to her cleavage. The top of the dress, though, was not suitable to be used with a bra. She removed it and looked at the mirror again.
If they were playing already, then she was going to play too: Rick would have looked at her perky nipples all night!