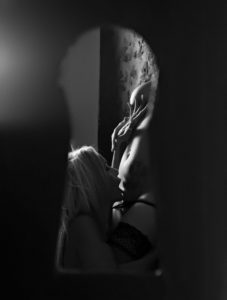 I'm looking through the keyhole, again.
I know I shouldn't do this. I know I shouldn't get lost in pleasure I cannot obtain.
Not in this way, not like this.
Society consider this taboo; considers this a sin. But what can I do, besides being myself?
I like me – mostly. If there is a little price I have to pay to be the person I want to be, I'm glad to pay it.
Knelt in the corridor of the office – the darkness of the late night protecting me from prying eyes – I spy on them, one again.
This is the only reason I stay late in the office, so often. Nobody knows it, of course, they always compliment me because I work so hard…. If they only knew the real me.
I stay late and I wait.
I lurk in the darkness – after almost everyone has left the office – and when the time comes I choose the door.
Yesterday it was Monday, and so it was my boss's one. He always "works late" on Monday, together with his personal assistant. Indeed, they worked – out – a lot, yesterday night.
At first, she knelt in front of him – it's a classic he never goes without – and unbuttoned his grey trousers, pulled out his cock and licked and blown it making obscene moans.
I always think they must be fake: she may like the act itself but it can't be possible to get that kind of pleasure doing that. Or at least I guess.
Then, when he stopped her – I have to say it doesn't happen always. For a couple of times he just shot his load on her face and dress; Ohhh, she got so angry at him! – he bent her over the desk and fucked her from behind.
And as they did it, I spread my legs and slid two fingers in and out of me.
By the way, I always wear a skirt in the office and I never wear panties. That's another little secret nobody knows about me.
I couldn't see clearly in which hole he fucked her, yesterday night, but I suppose it was her pussy this time because she complained at him later on that she doesn't take any pill, and when he pulled out his cock from her cunt it was dripping cum.
She didn't complain much when he gave her his cock to clean,- though. She did it with care until it got too soft to continue and it was clear their Monday session had ended.
I had already reached my orgasm too. I was just cuddling my spread, wet lips, avoiding my now too sensitive clit. I didn't need more.
I'm lonely, I have no friends – not to say a boyfriend. I don't think I'm ugly, though. I have just never been the kind of girl that feels at ease among the others.
Introvert, they call me.
And yet I like their lives, and even if I don't envy them, I crave to know those sensations that are to me unknown. How does it feel to touch a cock? How does it feel to be fucked by a man? How does it feel a woman's mouth on my clit?
I look at the keyhole I chose tonight. I see the new girl from the customer support unit, Loren. She is French, and as soon as I met her a month ago, I knew she was the promising type.
For my particular hobby, at least. And yet I'd never imagined this would have happened in such a short time: only four weeks, and she already fucks her boss.
With a difference from the usual routine of the office affairs: her boss – Grace – is a woman. Married, a couple of years older than her, always so serious and feared by everyone.
If they could see her now, her colleagues! Sitting on her chair; finger fucking, licking and lapping the young girl pussy as she lies on the desk in front of her.
I can hear the sound of her juices and I can hear their moans, and strangely they seem so real to me. I think the two woman are in love, I can't see any other reason behind those tender touches, behind the way their eyes lighten up every time their sights meet. They are so beautiful: I find myself waiting for Tuesday the most, among all days.
Grace stands up between the legs of the younger woman now sitting on the desk, satisfied. They kiss for long, then Loren unbuttons her boss's shirt and begins kissing her breasts until Grace can't stand anymore: her legs are trembling with pleasure, and the hand that Loren had slid under her skirt – even if I can't see it – is surely achieving the wanted effect.
They exchange positions and this time Grace – her skirt up to her hips –  lies on the table while Loren sits on the chair and takes care of her pussy. Grace doesn't shave: I always wonder if the young girl has to fight with the hair on her pussy, or if she doesn't mind. I always wonder if a hairy pussy would have a different scent. I miss the smell, among all senses. I can see, I can hear; I can't touch, but I don't miss it as much as the need to close my eyes and breathe the sex of another human being.
If I could have one of t-hese two women, though, I'm sure I'd go for Loren. She has a small body, small breasts and white skin. She resembles me, in some way. Physically at least.
It takes only a couple of minutes, before Grace grips her partner's head between her legs, as her body shudders caught by an intense orgasm.
The young girl smiles – I think she gets more pleasure by giving, then receiving, actually – then stands up and pulls down her boss's skirt.
It's time to go. I walk back to my office. I'll keep the light off for a while until I'm sure I'm the last one on the floor.
Then I'll go home and lie on my bed. I need to rest.
Tomorrow is Wednesday, and I've got another's life to live.