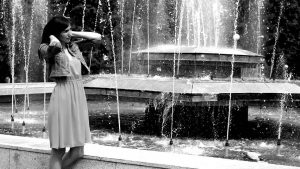 Her blue nail polish.
That was the most vivid, detailed memory he had of her. They were only teenagers at the time and he had always known she was deeply in love with him. But Paula, at the time, was what you could say the exact image of a tomboy, and Mark had never had any naughty thought about her.
Paula – simply said – couldn't be the woman standing there in front of that
fountain where they had decided to meet again twenty years later.
He stopped a couple of meters away and checked her out. She was tall, and Paula had always been taller than most girls her age. She had dark hair, that matched too.
But this woman had long hair she was trying to gather in a ponytail behind her back, while Paula always had short hair – as a boy would, indeed. Then she turned around, and when he saw her agile figure, her not too developed flat chest, the beautiful cut of her eyes and the frown on her face, he knew he had found the right girl.
After a couple of seconds, he realised she was staring at him.
"Mark?"
That was Paula's voice, there was no doubt anymore.
"Hi", Mark got ahold of himself and greeted her.
"Were you staring at me for long? " She asked.
"Pretty much. I was trying to figure out if it was really you."
Strangely, he noticed there was no ring on her finger.
"Are you convinced yet? "
"Are you really, really my Paula? You are so… Different!"
They were now standing in front of each other. She was a little taller than him.
"My Paula? It feels good hearing it again, Mark."
Then with the naturalness of the old times, she leant forward and hugged him tightly, giving him a welcome kiss on the cheek.
Mark felt a shiver when her lips touched his skin and he wondered: did he really never liked this woman?