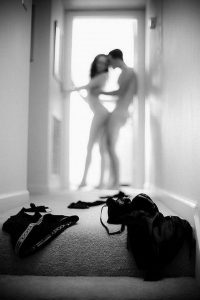 Finally, he is
home.
Two weeks of
business trip; two weeks waiting for him in my bedroom, consuming my fingers on
my needy sex.
Two weeks
thinking about this very moment, when he'll be finally inside me again.
Two weeks
imagining his strong hands gripping my hips and pushing me to the wall;
imagining me arching my back to ease him in, turning my head to beg for a kiss
that will not come.
Not now, not in
the heat of such long-awaited sex. I
know him, there is no trace of love for me now: there's only his instinct and
his lust, only the need to fuck me.
I like him that
way.
I like him when
he push his cock so hard inside me that my body bounces against the wall;
I like to feel
his balls teasing my lips each thrust;
I like the way he
groans when his orgasm approaches and I know he'll soon release his hot cum inside me, giving me the only reward I want.
Please, fuck me
harder: I want to feel home too.