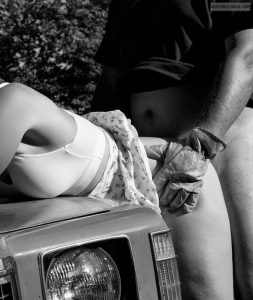 A Tinder Date.
Today something a little different. Lemme know what you think!
*****
I'm in a new city
tonight, and I have the evening free.
Or better, I'm
trying to hook up with someone, and this girl on Tinder seems to be the right
one for some fun.
The first comment
I had from her was about my muscles. She loves them. I bet she'll want to touch
them, to feel them on her body as a man fucks her.
She is hot too. A
body you rarely see, even if her face is not the best. But I'm not going to be picky: I just need a hole to fuck
tonight, and she would be a good catch.
Right now, I'm
going to the place she proposed for our meeting: a parking near a huge shopping
centre, in a zone quite far from the entrance. No one should disturb us, and
she'll feel more secure not being completely alone with me.
I reach the
place, park my car. I wait, until I see a white SUV with dark windows coming in
my direction, then stopping near my car. The door opens, I see a foot – oh, she
is wearing high heels! – and her naked leg. I pull down my window and she
finally sees me. She blinks, twirls in her short summer dress and opens the back door of her
SUV. Then enters, leaving it open a crack for me.
I follow her,
inside the car, and as soon as I enter I see the lust in her face. She must be
a real slut, I think. Let's test her out.
She doesn't even
ask for my name: she kisses me and I don't have to wait long before feeling her
hands exploring my muscular shoulders, my chest, then my stomach.
I'm of course
already excited: she is hot, she is sexy, she knows how to tease a man. My
hands are on her small breast already: she wasn't wearing any bra, so I just
had to slide my fingers from the top of
her dress to meet her hard nipples, to play with them. She moans like the bitch
she is.
With experts
movements she opens my trousers and pullsi out my cock, then begins to suck
is so eagerly, I could think she had no cock for months. But I'm sure she had
lots.
She sucks it so well that I could come right away, so I grab
her by her hair and pull her away from my
meat. Her face tells me she is happy with
the treatment. She likes to be used, and she wants more.
She takes off her
dress. Now she is naked, wearing only her high heels. I slide a hand between
her legs and-
I have a
surprise: a thin white lace is coming out of her pussy. The slut has her
period.
I look at her, questioning,
but I soon understand what to do. She moves her hips a little higher over my and let my finger slide to her rosebud; then she
kisses me, as I start teasing and preparing her asshole for my use. She rides
my finger and moans like crazy for a while, kissing my lips, playing with my
tongue and touching my chest. Then she pushes me away, turns around and gets on
her all four, showing me her beautiful ass ready to be fucked.
I kneel behind
her, spit on her ass and lay the tip of my cock on her entrance. I don't even
have to push: she thrusts her hips back and, as an expert pornstar, takes my
cock in her ass without a hitch. First the tip, then half of it, and by the
third push, my cock is balls deep inside
her ass. She must like anal and do it regularly
because I cannot feel the usual grip on my cock: just a tender, soft sensation
engulfing my entire shaft.
She moans and
yells at me. She tells me to fuck her harder, deeper, faster. And when I begin
slapping her ass, her body clearly demands it to be done harder. I slap it with
such force my hand hurts, and the bitch loves it so much she cums at least two
times while I fuck her like that, moaning louder than before, pushing her ass
higher to ease my penetration.
I don't want to
know anything about this woman. She wants to be fucked hard, I want to fuck her
hard: this is the only thing that matters tonight. And when I feel my orgasm
building up I begin pumping her with force, not caring anymore about her needs.
I fuck her ass and I explode in it, flooding it with my hot cum.
I stop; she lies on the seat, exhausted. No need for words.
I clean up my
cock, pull up my trousers and leave the car.
I'll have time to
contact her again, maybe.
On Tinder, next
time I visit this city.