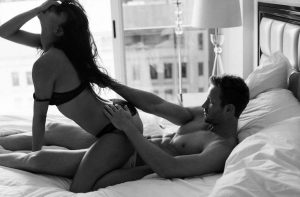 It's been long since my mum died. I was only ten and my dad in his late thirties, and everything was a shock for us. A sudden accident, a visit from two policemen, and the world collapsed upon ourselves.
At the time my father was used to work out of the city most of the time, and there was no special relationship between us. But he eventually he had to change job, he had to begin caring about me. To me, though, he felt almost like a stranger wandering in our house than a father.
It took time for me to understand how much he – too – was suffering. He and my mother had made their choices – some I still couldn't understand – but they had always loved each other. The loss, maybe, had been even worse for him than for me.
Slowly, I started feeling all that love too. Unconsciously, maybe, he was lavishing all the love he had felt for her on me.
As a teenager, I remember I often dreamt of him even in a sexual way. It was something very exciting, but not enough for me to try to actually do something more than sniffing his boxers, especially when I found them wet in the laundry basket. More than once I think I found my panties and my stockings wet too; and that white, sticky liquid wasn't sweat. I was already old enough to recognise it: sex was already an important part of my life.
I'm twenty-two now, and I still live with him. Today is Father's Day and finally, I managed to get him a gift – I hope – he'll never forget.
I'm not home, and everything is ready. I'm in a hotel and I'm looking inside my apartment, where I placed the two hidden cameras whose feed I'm looking at, right now. One is in the living room, pointing to the entrance of our apartment; the other is in the bedroom. It's almost time.
Dad is sitting on the sofa, looking at the TV. He thinks I'm staying at a friend's place and he is not expecting anyone. Suddenly, someone rings at the door.
I can't see his face well, but I can imagine it. He is wondering who could it be, he is wondering if his dear daughter came unexpectedly home, for any reason. Maybe he is scared to open that door and find two policemen, once again with bad news for him. But he does open it.
"Good Evening Mr Reed. I'm Petra, I'm here for you."
I see she forces her way in, I told her it may be needed in the beginning. I explained her the whole situations and she is willing to play the role.
My role.
It took long to find her – an escort so similar to me that you may consider my sister. She has the same body as mine, the same dark hair and the same green eyes. She is not me, of course, but it's by chance she used that name: that is my name, and I told her to do so.
From that moment she is her daughter. She is me, finally getting the forbidden fruit I will never be able to enjoy. And I'm the spectator looking at myself.
I hear that beautiful girl calling him dad. I hear her wishing him a good Father's Day while she pushes him on the couch: she is exaggerating the daughter play a little too much, but I'm sure dad will not complain. I cannot see it in details, but his cock is hard already, and he stopped trying to refuse that girl already.
She kneels in front of him and takes his cock in her mouth. I look at her head moving up and down on my father's meat, I imagine being me in her place. My panties are already wet, and my fingers are looking for my pussy, grazing my clit, rubbing it slightly, waiting for more juices to pour out of me.
She is a pro, I must say; I would never even have such ideas. She licks his balls and sucks them in her mouth. I think she even licks his ass at times, but I cannot be sure of that. In any case, my dad enjoys it more than I ever imagined.
I feel shivers every time he calls her with my name. He does that a little too often as if he needs to convince himself that that girl is really me. My dad treats her gently, and still, I feel his lust in each of his movement. He wants to fuck that girl, he wants to fuck me, and yet he tries not to lose control upon himself. It must be a sweet torture, as it has always been between us.
The girl in the monitor had stripped herself and, while continuing to blow her man, she is sliding her fingers in and out of her pussy. I realise I have two fingers inside me too: it's been weeks I anticipated this moment, I am so excited I could come right away. Still, I wait.
The girl knows what she has to do, and follows my instructions. She pulls my dad into his room and as soon as he is on the bed, she stands in front of him, turns around and shows him my – her – body, dancing at the rhythm of a music that doesn't play, bending her curves only for his enjoyment. I want him to remember this for the rest of his life, I want him to remember me like that.
Then she reaches the bed and crawls on my dad. Soon, she is riding him. I chose a good place to put the cameras: I can see his cock sliding in and out of her pussy, I can see his muscles tensing each thrust, and I can hear their excited moans. My dad's groans that I heard sometimes when eavesdropping his rare masturbation session, and that girl's one as if they were my own.
I'm moaning too, indeed. I got my dildo, I put it on the chair under me and I'm riding it in rhythm with them. I can almost feel my dad's cock inside my pussy, I can almost feel his thrusts and his need to push his meat deep inside of me.
As I asked her to do, she turns around on him. Reverse cowgirl has never been one of my favourite positions, but I know men cums easily with it. And I want my dad to look at her back as he cums, I want him to think of me as he shoots his load inside her pussy.
She pushes her ass against my father's groin, she raise the pace and she begins to moan louder. I see his body tensing, I see his hands gripping her by her hips, pulling her to his cock as he calls her with my name, releasing all of his love inside her.
He lies on the bed, exhausted. The girl kisses him and whispers something in his ear: she didn't forget about it, I'm happy, but I'll not tell you what I asked her to tell to my dad.
I'm sure he knew already who prepared him this special gift and I saw how much he liked it. I liked it too: the puddle of juices on my chair is the proof of that.
I turn off the notebook, I lie on the bed and close my eyes.
Nothing will change, I try to convince myself. Nothing will change… this will always be our little, naughty secret.
But I'm lying to myself: I'm already thinking about next year's gift, and my restless fingers are already looking for my sex again.