A Shopping Date – Part 5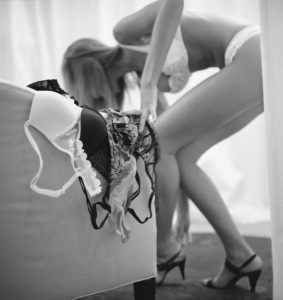 But he had no plan of fucking her, yet. He smacked her ass again. One, two, three times. And each time Michelle felt his hand touching her bare, sensitive skin. She felt shivers through all her body.
"Please…"
"Is this how you beg?" he asked.
Another smack; but his hand rested on her cheek this time, and moved slowly to the centre, caressing her nude skin, pushing gently into her little pink hole; then sliding down between her lips. She clearly felt two fingers sliding inside her pussy, meeting no resistance at all. She was dripping juice on the floor, and she was so intoxicated by the feeling that she didn't even notice her first orgasm approaching.
She just exploded, pushing her hips backwards and her face against the mirror, arching her back and biting her hand not to moan too loud while his fingers continued to slide in and out of her pussy. But even if her head was now spinning so fast she has problems to stand, his fingers didn't stop.
She knew herself: she was the kind of woman who needs more than one orgasm to feel satisfied. As such, she was glad he continued to finger her. She just lifted one of her legs and rested it on the stool, to ease his job and try to regain her balance.
"You are beautiful Michelle; a beautiful and naughty woman…"
He slid a wet finger into her little hole and pushed it. Her rosebud gripped his fingertip and Michelle stopped breathing for a second; then she relaxed and let him slide inside her a little farther.
To think she had never allowed that to anyone before! But Alan's fingers were tender… his touch wasn't rough. Everything from him felt commanding, calculated, yet sweet at the same time. His finger exploring her naughtiest spot didn't last long, though… Again, Alan had other plans.
"Turn around and sit down."
Alan slid his finger out of her; she sighed and moaned, deprived of the pleasure that was already building up again inside her, but turned around and sat on the little stool inside the changing room. Alan was now standing in front of her. Behind him, Michelle could see the curtain, almost totally closed but… she knew someone could have passed by at any moment. Again, those shivers… and the well-known feeling of her honey pouring out of her pussy.
She reached out to his trunks and touched him. No complaining; she knew she could, now. She unlaced the string and pulled them down enough to free his hardness. She smiled when she realized she was looking at Alan's cock comparing it, in her thoughts, with her husband's one. They were not so different, but Alan's was thicker. She caressed it, enjoyed the slick wetness of his pre-cum around his tip, rubbed his shaft and balls with her palm. So eager… she wanted him so much now, she could smell his scent hitting her nostrils, strong and masculine.  She had never liked too much her man's smell, but Alan's was intoxicating.
He caressed her head and pulled her to him, gently; steadily. She wondered if she could manage to take it all into her mouth: that thick tip, that hard shaft; then grabbed his ass and pulled him towards her.
She slowly opened her lips to accommodate it, she wanted him to fee in command, to feel as if he was somewhat violating her; as if his cock was too big for her mouth.
Michelle loved to make men feeling in control, but as any good woman, she was usually the one allowing or not allowing everything. This man was different, though; she wasn't sure she would be able to say no to him, in any case. He could do her things she had never permitted to anyone and, strangely, she was feeling good being guided by him. She let her lips loose and moaned when she finally felt his taste in her mouth. Michelle began licking it with passion, sucking it and moving her head back and forth on his cock. She realized his hand resting now on the back of her head, guiding his own pleasure, was something she had always needed and never had.
"Touch yourself!" he whispered.
His voice was broken with pleasure and Michelle smiled in satisfaction, as much as she could. Then slid one of her hands down between her legs and began rubbing her clit; slowly, in the beginning, then raising her pace, meeting the one of the cock that was pumping her mouth.
She slid two fingers inside her, in and out, and was already feeling her orgasm approaching; but Alan, one more, wasn't going to give her that pleasure; not now.
"Stop it."
She complained moaning on his cock: she was enjoying licking its tip with her flat tongue inside her mouth, teasing and rubbing it, and moving her fingers away from her aching pussy was the last thing she wanted now.
"Please, Alan, I need to…"
But he took her by her shoulders and lifted her up. He kissed her, and her lips disclosed immediately acknowledging his passion. Michelle, naked, standing in front of him, was already out of control.
He turned her around again and felt his hard cock looking for its way inside her. Wet as she was, Alan's cock slid inside her with ease, all the way. He stopped there for a second then began pounding her.