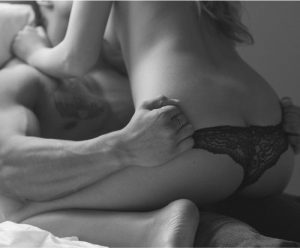 She got home drunk again yesterday night.
It's normal, I mean, not that I mind it too much. She went out with her colleagues: I come back home drunk too sometimes, it just happens.
She knew she had promised me some sex, though, after a week of forced abstinence. But now she lies on the bed
motionless; wasted.
Headache, she said. Isn't that the most common among the excuses?
I force myself not to be angry, not to be disappointed, just because I love
her.
Still, I waited for this moment; I anticipated it. And now everything is
postponed.
Strangely enough, I sleep well. Dreams of travelling to the other side of the world just to satisfy her desires – buying her favourite cake, what did you just think? – , dreams
of quarreling and make peace later on.
Suddenly, it is already morning, and she wakes me up in the sweetest of the ways: I feel her hair grazing my stomach, my crotch. Before even opening my eyes I feel her lips engulfing my soft cock, her gentle suck and her tongue playing with it as she
feels it growing inside her. The little-big me promptly stands up. She looks at
it with self-satisfaction, smiles at me as she gives it a last lick, then she
lies on me and kiss my lips. It's a kiss I know well: I recognize her guiltiness in
it, I can feel she wants to be forgiven for the betrayed promise of the night before.
Still, she doesn't seem worried. She is sure her ways work with me. She sees they are already working.
"I want to feel your hard cock inside me…" her whisper in my ear are the only words I need.
I grab her and turn her around on the bed. She lifts her legs, take off her panties and with two fingers invites me inside her pussy. It shines with her juices already, it's
waiting for me.
I slide my cock inside her, balls deep. She smiles, kisses me again with renewed
passion as I lie on her.
I feel her hard nipples grazing my chest, and there's nothing to forgive
anymore.