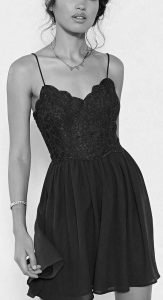 Dana woke up the next morning wondering what was wrong with him. Even if she had one of the most romantic evenings of her life, the fact he hadn't wanted to have actual sex was bugging her. Maybe Rick had some problems he didn't want to share? A small dick, an ugly body, erection problems – Dana spent the entire breakfast thinking about it.
But no, that was impossible. She knew he was going to invite her again, there was no way that man could stop at the first date, after what he had done her. That had to be some sort of plan.
Moreover, there was the meaning behind the safeword she had gotten: you don't receive a safeword to dance in the living room. Something was going to happen for sure, and she both felt the anticipation for it, mixed with a subtle sense of fear of the unknown.
A couple of days passed without anything special happening between them. Rick was the usual funny guy at the coffee machine, and the usual serious hard working old Rick during the day.
There had been no reference to the night they had spent together, and Dana was glad about that. Still, after some days of normal, polite – and after what had happened, she could have said "cold" –  communication, there was no hint to lead to their next time.
Every day, as soon as she arrived home, she would empty her bag looking for another letter, for a sign. Every day, too often to consider it normal, she would check her smartphone for his messages, without result. It was only on the next Friday evening when she was beginning to think he simply didn't want to see her anymore, that she received his message.
[Tomorrow, 11:00 .m. Dress properly this time.]
There was no need to be so piqued, she thought. But her heart was already beating faster than usual, her skin trembling at the thought of his fingers caressing her again, at the thought of what this time – she hoped – was going to happen.
She spent most of the next day looking for something to wear until she tried a bordeaux short, elegant dress. The dress left her arms and shoulders naked and fell down just a little above her knees. There was enough skin to see, but it wasn't in any way an arrogant dress: it was simply the perfect dress for her.
The afternoon was spent looking for the right accessories for it. She had so many at home, that it was impossible to choose easily. Since she wanted to keep it simple, she wore light silver sandals and a silver pendant: they both enhanced the pearl nail polish she had decided to adorn her nails with. Then she shaved, washed and combed her hair and waited.
She wondered why she had been invited to his apartment so late, this time, and ate a sandwich thinking it was maybe a not too subtle way to tell her that, this time, she wasn't going there for a romantic dinner.
That could be the reason why Dana was so nervous when she rang his doorbell. Even if the game had already started, it was still just a silly game. But in the air, she could feel the wind of changes.
Rick, though, was as sweet as the first time.
"You look fantastic, Dana," he said kissing her on her lips. "This dress really suits you."
Dana tried to linger on that contact but he turned around and invited her inside. He was wearing – again – trousers and a shirt. It was his style; this time, though, the shirt was left out of the trousers giving him a casual feeling that the previous time had – purposely? – lacked.
This time, there was indeed no dinner ready for her, but as Rick led her to the couch she understood why. On the low coffee table in front of the couch, there was an ice bucket and a bottle of Champagne into it. Close to them, some savoury snacks that, in the end, no one ended up touching.
They drank, they talked, and the more the time passed the more their bodies got closer until the bottle was empty and Dana's only thought was when that man was going to take her. And again, this time, she was the one leaning on him, kissing him, pushing him on the couch and sitting astride of him, pressing her pussy on the hardness she could already feel inside his trousers, showing him the desire she had built in their week apart.
And again, Rick pushed her aside, stopping her.
"Come with me," he said taking her hand and pulling her through the corridor.
This time, at least, he didn't send her home, Dana thought.
"Close your eyes."
She closed her eyes and waited. It was only a couple of seconds later, that she felt Rick's presence behind her, and the touch of a silky blindfold covering her eyes.
"Do not remove this until further command."
"Command? What-"
She felt a shiver down her spine. His hand covering her mouth was a clear warning that she had risked saying too much.