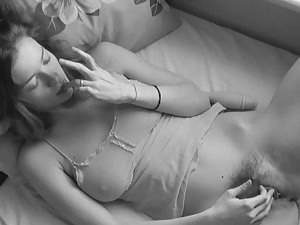 It's always like this: if I don't get off for a couple of days my orgasms
are stronger, last longer.
"Ooohhh, fuck! Fuck!"
I moan loudly. My body explodes as waves of pleasure runs through it.
It takes time, then, for me to calm down.
That's the moment I anticipate the most though. I slide my fingers out of
my pussy, I bring them to my mouth and I lick them. My juices taste so sweet,
their scent is so womanly.
And now, as always, I realize I'm thinking of you again: my best
girlfriend.
As if this was your scent, your taste. As if I'd just licked your clit,
your labia and your pussy until you'd cum for me.
Will it ever happen? There's a chance; hope never dies.
For the time being, I'll dream of it. And as I do, my hand slide again down
my body, caresses my turgid nipples, my stomach.  Soon is back on my clit.
And I make love with my dream again.