The Impertinent Masseuse – Part 2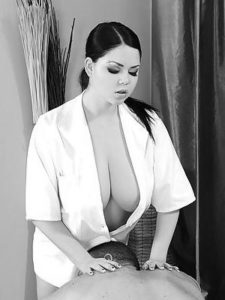 It was indeed only a couple of minutes afterwards that Natalya spoke.
"Turn around, Fabian, can you?"
I wondered if she was aware of my situation.
More than my softening erection, though, I was worried about my grey briefs. I could feel I had wetted them already, and she would have never missed to notice that darker spot on them. And yet, I had no way not to do that. I turned around and casually glanced down. The wet spot was there, but not as noticeable as I'd thought.
When I lay down and waited, wondering what was going to happen, I was a little scared. But Natalya, had she realised my state or not, did nothing to show it. She began massaging my legs again, my knees, my thighs, and I had to do everything in my power to keep my erection from growing again.
Then she positioned herself again on the back of my head and massaged my head, my arms and my chest. Once again, her breasts grazed my face more often than necessary, and now I was almost sure it was naked under her t-shirt, since her nipples were clearly visible beyond the textile and her tits moving too freely to be constricted in any way.
She soon began speaking again.
"Why did you chose my studio?"
"It was my wife choosing it, actually."
"Ah, so you are married. So bad… such a nice man."
"Hey, you should concern about giving your customers a good massage, not about their bodies, am I wrong?"
I was feeling already at ease with her, and speaking without particular constraints. Indeed it was clear to me that Natalya was an open person, and that there would have been no problems being open with her too.
"Why shouldn't I enjoy it too? And besides, isn't my massage good enough?"
"Mmm… yes, it is… quite enjoyable," I said, trying to find out the best way to describe it.
"I imagined so…"
I realised she was bluntly referring to my excitement. She had, indeed, noticed it, and I fell into a short, embarrassed silence until she continued to speak.
"I could even do better if I had more time."
"More time? You had one entire hour already," I said, wondering what she meant.
"But I give good discounts for two-hours massages."
"Two hours? And what do you massage in two hours? You did pretty much everything you could, today, and we have still some time left."
She laughed. Again – I realised it only later – my unknown naïve side had surfaced.
"In two hours, I'll massage even your ears."
I lifted my chest and rested on my elbows, interrupting her massage to my head, then looked at her with sincere curiosity.
"My ears? How the fuck do you even massage ears?"
She looked at me with a strange, almost embarrassed expression I would have understood only later, before looking away and pushing me down to lay on the table again.
"Of course, like this!"
And she cupped my ears in her palms and circularly rubbed her with a motion that, in that moment, I thought wasn't going to be an enjoyable massage at all.
"Is this even a massage?" I laughed, and the way she smiled and let the topic fade away seemed a little too strange even to me.
The massage ended without anything particular happening anymore. We separated promising we'd seen each other soon again.
Thhe massage had felt, indeed, good enough for my back.
***
The same evening, as me and my wife were having dinner, she asked me how the morning at the Massage Centre had been.
"So, how was Natalya? The promised tall, sexy, naughty Russian babe?"
I smiled, fought between the impulse to troll her telling her some fake, naughty tale, and the fact I genuinely wanted her to know. I decided for the latter.
"Not tall, not particularly sexy. She is Russian, that's for sure, and naughty, well… I can't say, but she seems promising on that side."
"Promising?" She questioned, intrigued.
"I mean, I think she was touching me a little too close to my private parts. I had the impression she wanted to turn me on more than once, can't be sure about that, though. Nothing happened in the end."
"Was she pretty?"
"Pretty, not a babe. Not so thin as I'd expected, but with huge tits that she managed to rub against my head and face more than once."
"Uahahaha, against your face? She must be very bold! So, she did manage to excite you!"
The way my wife laughed at the whole situation was a little irritating, so I tried to make her a little jealous.
"More than I'd expected, yes…".
Well, she wasn't jealous at all, I should have known that before. My wife was smiling, satisfied. I had gotten such a teasing, and she hadn't even had to move a finger! It took a couple of minutes, as we ate and drank wine, before she continued her questioning.
"So nothing else happened?"
I thought a little, this time retracing back to the hour I had spent under the masseuse's hands, and eventually, something popped up in my mind.
"Well… if I have to say, something strange happened. She told me she can massage me even better if I book a two-hours massage… and when I asked her what was left to do – since she had massaged pretty much everything there was to massage already – she answered with 'even your ears', and played with my ears for a second not really mimicking a massage: it felt more like she was mocking me."
"Well, isn't it obvious? She wanted to jack you off!"
My wife had gotten a little tipsy and that had loosened her hinibitions.
"Wh… What?"
The way Natalya had been overly friendly – almost flirty – with me; the way she had given special care to my thighs, too close to my erogenous spots; the way she had carelessly rubbed her tits over my head and face; the 'ears massage'. It struck me in that moment: everythig had been connected.
And yet I couldn't agree with my wife, I couldn't tell her I had been so naïve.
"No, it can't be. I mean… she almost had me, she did everything to excite me… but never really went overboard. If she wanted to propose that, why didn't she just ask? She could have even grabbed my hard cock and jake it off until I cum, as she knew the state I was."
As it happened often, with my wife, I imagined myself speaking in the same way with any other woman. But couldn't imagine any other woman but her. Another one would have probably killed me already.
"I don't know, but I'm pretty sure the 'ears' were nothing but a not-so-subtle code."
"I can't believe that."
"So, let's see. Tomorrow I'll book the next massage for you,"
She said, and from her voice, I could understand she didn't want to continue on the same topic anymore, for that dinner.
"Be bold, and find out the truth. You'll have two hours for that."