The Impertinent Masseuse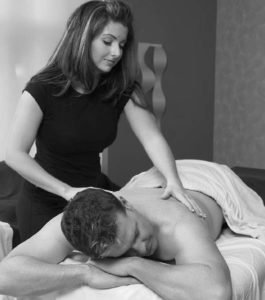 That time, I was in need of a back massage.
Really, there was nothing I needed more than someone working on my stiff back, my shoulders and my neck.
My wife had tried her best, but I know myself pretty well: I need a good, strong professional, not an improvised one. She was nice to try, and yet there had been no tangible result.
The day arrived when I couldn't even stand up from my bed, and she realised the situation was worst than she had thought. I didn't complain, and still after a couple of hours – when I was at the office trying to concentrate on my job instead of the pain – I received a message from her.
[Tomorrow, 9:00 a.m., Massage Centre Natalya, close to your office.]
I was happy, already looking forward to it. I was also pretty intrigued by the name of the Centre: Natalya sounded like a Russian name, but massage centres were a monopoly of Chinese and Taiwanese masseuses in my city. It sounded strange.
So that evening, at dinner, I asked my wife for some more information.
"Natalya? Is she Russian, maybe?"
She cheekily smiled at me.
"Probably, yes. It's just the massage centre closer to your office I found, I didn't look specifically for a Russian hottie. Are you looking forward to her, already?"
"I'm really looking forward to a massage, for sure. You know my back hurts…"
"And what if she is a tall, blonde, big-breasted Russian girl? Would you look forward to something else?"
I adore my wife. She was – and is – always ready to joke even about matters that – too often – are considered taboo in a couple.
"Huge tits? I never even thought about those, even if… well, if she is Russian, she may be very pretty indeed. And if I have to choose from getting massaged by a strong, tall, muscular man or a tall, pretty, big-breasted girl… if both massage well enough, I'd definitely prefer to feel the second's hands on my body."
My wife smiled, apparently satisfied by my honest answer.
"But I hope for you she's hot, and I hope she'll massage you so well you'll get excited feeling her hands moving on your legs, on your inner thighs, grazing the side of your balls as your cock grow inside your pants… then she'll ask you to turn around and you'll be embarrassed to do it because your enormous cock will be standing proudly in front of her eyes. And so she'll not be able to resist: she'll have to grab it, massage it, suck it until you'll shoot your load on her huge, sexy tits. Right?"
I laughed, thinking there was no way they'd consider us a normal couple.
"You're exaggerating now. You know I rarely get excited with a good massage. But I can't assure she'll not manage to do it… can I ask for a happy ending in case, at least?"
Again, that naughty smile of hers.
"You can, of course. It'll just be less work for me home if she satisfies you. And a hand job would not make me jealous… I guess. Just tell me if she is better than me, in case: maybe this old wife of yours can still learn some new techniques to keep you at bay."
She was so sexy – my wife – when she spoke like that. I knew she was joking, and at the same time, I knew she'd not complain too much if I'd gotten – for real – a hand job from that masseuse.
If there was any Russian girl waiting for me, anyway, because the chances to get a Taiwanese one were still, definitely, higher.
***
The next day, at 8:55 a.m., I was in front of the Massage Centre looking for the right bell to ring.
Huge, enormous breasts were the first thing I saw before her dark blonde hair appeared and her smile welcomed me.
"Hi, you must be Fabian, rrright?" Her eastern accent was not as strong as I'd thought, and even if it was clear she was a foreigner, overall her spoken English was very good.
She beckoned me to follow her, and so I did. We walked across a large corridor that doubled as a waiting room, which eventually led to the back of the studio. There was nobody around: I must have been the first customer of the day.
I looked at her from behind. She wasn't as tall as I'd expected, nor thin. A normal girl, with hips a little too large than you'd expected but that, in any case, were in harmony with her huge chest. Someone would have called her curvy, not chubby. Her blonde, straight hair was gathered in a ponytail and still so long that covered the entire length of her back.
"You can undress herrre, Fabian" And for the first time, as she looked straight into my eyes, I noticed the strange inflexion she gave to my name.
"Should I… keep my briefs on?"
I was serious, really. It's just that even if I'm not naturally naïve, in some situations I tend to forget what could be misinterpreted and what not. Indeed, I had been in massage centres where you had to wear disposable paper thongs provided by the house, or even be completely nude jus covered with a towel. It was completely natural to ask, as it was the first time I was there.
She laughed, before mocking me.
"Keep them on, for now, Fabian."
I smiled back, but it was just a courtesy smile. In fact, I felt embarrassment and she must have noticed it because as soon as I finished undressing and I lay face down on the massage table, as she started spreading warm oil over my body, she said:
"And now just relax, I'll do everything I can to make you feel good…"
She seemed to be the kind of girl who likes to play with words, and I didn't mind it. Playing with words was nice, sometimes even more exciting than anything physical.
"You have a nice body, Fabian, you do any sporrrt?" That long, hard "r" again. Strangely, it didn't annoy me.
Natalya was massaging the back of my knees, slowly moving up, feeling the back muscles of my legs occasionally sliding her hands on my inner thighs, then up massaging my ass a little.
"Nothing in particular, no."
Her touch wasn't as energetic as I would have liked it, but it had something in it… almost erotic. She was caressing me, and her slender fingers were daring to graze almost forbidden spots.
I recalled my wife, how she had joked about my masseuse touching my thighs and then-
I had to stop that thread of thoughts. I was getting toto excited again. Luckily she couldn't see me, as I lay supine on the table, and yet it was too risky to let go.
She continued massaging, my legs and ass, then she moved to the side of the table and began massaging my back and shoulders. I liked it: that was why I was there.
I stopped talking. I don't usually like to talk when I get massaged, at least not after the casual, friendly talk in the first minutes.
Her massage became more energetic. Her hands were carving paths in my back, looking for the places I needed to be touched most. There was nothing erotic in that massage anymore, and as such, I relaxed again.
Until she moved on the short side of the table, in front of my head, and began massaging my neck, shoulders and back again. I couldn't see her, and yet I could feel everything, especially her breath that had gotten heavier than before. As I lay on the bed, I fantasized about her being aroused because of touching my body. I could feel her fingers sliding from my neck on my back, further down each stroke until she reached my ass, and up again. And every time she did that, her breast pressed on the back of my head, her body leant over mine. I could feel her softness, her perfume. I had to start thinking of something else, something upsetting or sad, because she had managed to turn me on again and I needed my cock to get softer.
There was still time, but she was going to ask me to turn around soon, for sure.
Salva