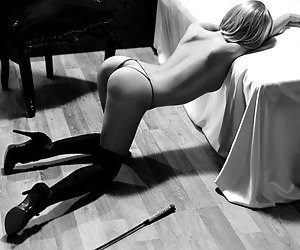 I wait for him.
Like this, knelt against his bed.
He gave me the keys of his apartment long ago, he knew I
would have needed them already. He had always been able to look inside myself
way better than I do. He knew it'd come up to this.
It's already one hour I'm in this position. My knees hurt a
little, but I can't wait for him to come and see how obedient I have been. And yet, I never felt so free in my
entire life.
I wear black Parisian stockings – he complimented my legs
more than once when I wore them in the past – and high heels of course. He said
once that my small, perfect ass is valorized by them.
My thong is just a lace, just a symbol of a gift he has to
unwrap. Because it's our first time, tonight.
It's been months already since we met, it's been months since he
first spoke to me, since he conquered my body and my soul. And yet he took it
very slow. He took his time to know me, to understand me. The when he did,
everything felt so natural, so easy to me. To fall for that man and to embrace the
feeling of his authority on me.
After all this time, I need his hand to finally slap my ass. I need
his whip to strike on me. I need his fingers to violate my holes. I need his cock
in my mouth. I need to serve him in any way he wants. I want to be  his slave.
I hear someone opening the apartment door. It's my
master.
I lower my head.
I wait for him.