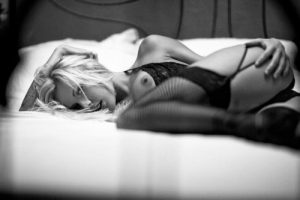 I never believed in love at first sight.
Since the day my wife
left me for another man – one of my business partner – leaving me alone without
even the support of my job, I didn't
believe in normal love either.
Years passed, and I started seeing women as objects; sex as a need that can be
easily fulfilled by a woman who provides it as a service. Escorts, they call
them.
Money is not an issue for me. I can buy whatever I want,
and that includes the prettiest girls in
the city of course. I tried many. Escorts so beautiful and so expert in the arts
of love that I'm sure describing them would be an understatement.
They gave me pleasure, they got rid of my needs in the
best of the ways.
And when one wasn't enough, I'd bought two or three of
them. I can easily say two mouths working on your cock together make every
worry disappear for a couple of hours.
I don't know if I'm right, but sometimes I feel as if my
need of sex will never be satisfied; as if
this has become a drug for me and I'm just an addicted not knowing what he
really wants.
All of this, until this very moment.
Tonight I'm in a different city. I needed to sleep here
and I wanted company. I found her on the internet in a local forum. She had no
website, no contact but an anonymous email. But the photo of her ass –
supposing it was really hers – caught my eye. And so I wrote her and, after a
couple of hours, she is here on my bed.
She got prepared in the bathroom. I waited for her
sitting on the sofa. Then when she entered the room, I continued looking at
her. I'm sure she could see the lust in my eyes, I'm sure she sees it even now.
She stares at me with those sexy eyes, those waiting
lips, those long blonde hair covering half of her face, her nipples poking out
of a thigh, black corset.
Strange enough, even if my cock is already hard from this
vision, my heart is beating faster than usual.
I stand up and close the gap between the couch and the
bed. She sits on the border of the bed and looks
above to meet my eyes, as her hands already pull down my trousers. My cock
stands in front of her. She begins licking the tip, all the time maintaining
eye contact with me.
Those gorgeous
lips, that expert tongue; everything about
her makes me crazy. I see my orgasm building up, so I grab her hair and pull
her head away from my cock. She understands
and stops jerking me off. Only one of her hands continues gently massaging my
balls, teasing my perineum with her long, polished nails. It calms my cock
down, but not the turmoil inside me.
I push her on the bed. I feel as if I'm looking at the
scene from afar: I'm usually not this pushy, not even with escorts. She smiles,
unlaces her corset, opens her legs. I
never licked an escort before, I always
thought of it as a senseless act, and a kind
of strange one too. I always wondered how many men had done that before me.
This time is no exception, but there is something
different: this time I would like to
do so. I'm attracted by that pink pussy, its wetness, its scent. I touch it
with my fingers, I slide two of them in and out of it trying to regain control
over my thought. She seems genuinely excited. How can she fake so well?
She reaches out to
her purse and takes out a condom.
Again, I know I have to use it. I had always wanted to
use it. Tonight is different and it takes some mental energy to fight those unusual thoughts
again, as she unrolls it on my cock.
I lie on her, she guides my cock between her legs, and as
I push my lenght inside her, I look into
her eyes – so close to mine now. She kisses me, she hugs me, she grabs my ass
and pulls my hips to her at each thrust. She guides me in my pleasure until I just cannot resist anymore and
I cum into her.
For the first time in years, it was no sex. We made love.
"I love you." Yes, it was love, and even if I should not say
it, I do.
She kisses me again, this time with a passion that I didn't
feel before.
"I'm happy my first time was with you."
Dumbfounded, unable to grasp the real meaning behind
those words, I don't answer.
She goes to the bedroom then she silently gets her stuff
and exits the room, leaving on the table the
money I prepared for her.
I feel reborn, thanks to her. That beautiful woman made
me feel love again, made me feel loved
again.
I open my PC, I find her email and I write her.
I want to see her again, tomorrow.