Hot Bubbles – Part 2 – End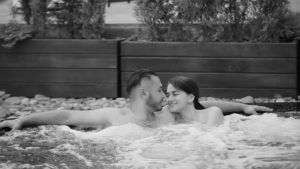 Casually, he opened his eyes and turned his head to her. He lowered his sight to her cleavage, watching her big round breast floating in the water, and up to her smooth neck. How much he loved a smooth neck to kiss: he'd dive into it right now, if they were alone. A little above, he met her blue eyes: eyes sparkling with lust, eyes asking for complicity. He turned his head away, feeling pervaded by a new courage: he knew he could dare more, and he would.
His arm was now pushing against the side of her breast more firmly, he could feel the thin bikini and her soft skin; he could almost feel her breath getting heavier. If only they were alone… he imagined to stand up, lower his swim briefs in front of her and give her his cock to lick, his glans to cuddle with her lips and tongue, the key of his pleasure.
Sam wanted to ask her why, to ask her name, to know something more about that woman. But at the same time, he was afraid to break the spell. He couldn't find the right words: what words could have explained the multitude of different and contrasting sensations he was feeling? And, he was sure; it was the same for her.
The woman's hand was now on his knee, cupping it, caressing it and moving slowly, steadily, upwards. Her fingers were tracing their way up… there was indeed no need for words anymore; it was like being secret lovers in the grip of their passion. Sam moved his arm around her waist, behind her. The other men in the pool were probably thinking they were lovers, partners; and yet they didn't even know each other.
That chemistry between them was something he had never felt before. He placed his hand on her breast, squeezed it gently. He could already feel her hard nipple grazing his palm; he began to play with it, tracing its contour with his thumb, teasing it to get it even harder. He had decided to push his luck until she'd decided to leave… and he didn't want to stop anymore.
And her hand on his crotch, gently caressing his ball and his shaft from outside the briefs, was telling him she was not going to leave. She was going to enjoy it; he could feel her fingers wrapping around his shaft, feeling the hardness of his cock, until she slid them around the waistband and pulled it down, freeing it from its cage. He thought he'd never tried anything that exciting: in a pool, with other people around, and his sex standing naked in the water just an inch under the bubbles. The two men, luckily, had rested their heads on the headrests and had their eyes closed.
Maintaining her absent looking face, as if she was used to it, she began jacking him off. Her hand was moving up and down on him, stopping sometimes on its tip massaging it all around, then sliding to his balls and up again. For a brief moment, Sam thought again of his wife: but he couldn't stop anymore, he could only be grateful of the two men being there in the pool with them because at that point, in any other situation, he would have fucked that woman.
He slid his hand lower, on her hips, on her ass. The woman knew what he wanted, and slightly lifted her body to accommodate his hand between her cheeks… and lower, until she was sitting on his hand. Sam could feel her ass on his wrist and the shape of her lips on his fingertips. Her hand stopped for a while, as she enjoyed the feeling of a new hand touching her. When he slid his fingers past the black bikini bottom, when he finally pushed them into her pussy, she closed her eyes and began stroking him again. She was more passionate now, in synch with the movement of his fingers inside her.
Sam was in awe: her pussy was so juicy and his fingers sliding in and out of her easily. In reality, he couldn't move his fingers much, but she was grinding her pussy on them with force and passion, pushing her hips back and forth under the water, riding him like that. Yes; that was the feeling he had: she was in complete control, fucking his fingers in rhythm with her hand on his cock… up and down, up and down: and yet, even in that extremely wild act, he could feel something sweet, almost romantic. The warm water was giving him the illusion of being inside her.
The sexy woman closed her eyes and laid the back of her head on the headrest on the border of the pool, too. She kept on moving up and down on Sam's fingers, increasing her pace on his hand. He felt her stroking getting faster on his cock, her breath heavier… then she stopped, pushed her hips down and came on his fingers with an imperceptible moan.
The feeling of his fingers completely swallowed by her wet pussy, her spasm squeezing him, her body shuddering as the orgasm impregnated her body, and her back arching to ease his fingering… it was too much for him. Sam couldn't resist anymore: he felt the woman rubbing his tip in the palm of her hand, and soon begun cumming… a white, hot flow spurting out of him, into the water.
His head spun for a while, as she kept caressing his sensitive tip, cuddling it as it became softer. Then she just stood up and walked away, out of the tub, up the few step of the ladder showing him her juicy ass again. He could see her bikini bottom still shifted a little aside.
Sam would have liked to follow her, but he still couldn't hide his fading erection so… he just followed her with his eyes, carving in his memory the outline of her body against the sun. He wasn't sure of it, but as she stood up it seemed to him to hear a voice, almost completely concealed by the noise of the bubbles.
"Thank you."