A Stranger's Touch – Part 2 – End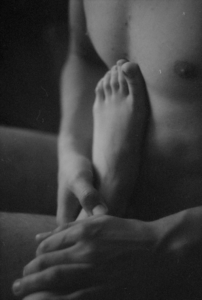 "What do I feel, here?" You ask, rhetorically, "It seems I'm not the only one enjoying this so much…"
Busted. And yet, there's nothing bad about it. Your voice and your body tell me you want it.
"Pull it out," you command.
My mind tells me to say 'no', but my hand have already unleashed the belt, unbuttoned my trousers, unveiled my naked meat to your eyes.
"Such a beautiful cock," you say, looking at it, licking your lips. I'm shocked, I'd never thought you could be this powerful. Your presence fills the air, your movements tell me I'm the prey and you're the hunter.
I'm not massaging you anymore. I forgot about it. I realize it when you move both your feet forward, and place them between my legs. The first sliding on my thighs until it reaches my balls, while the other begins caressing my shaft, teasing my wet tip with your toes.
I'm amazed, totally dumbfounded. You are massaging my cock with your feet, and you are doing it so perfectly I risk to cum already.
"Stay put," you command again.
Then you slide your body forward, putting down one leg, while with the other you never lose contact with my cock. And you spread your legs and lift your skirt so I can clearly see there is nothing under it, only your bare pussy, your spread lips, and your juices making your sex glitter.
You start masturbating, rubbing your pussy in front of me, in rhythm with your foot on my cock. I'd like to stand up, take you, but you said to stay put and I abide. I' actually enjoying this, so I let you use me, as a tool for your pleasure. And you rub your clit so furiously, you slide your fingers in an out so hard, that from the naughty noises I understand you are completely drenched, completely in need of an orgasm.
You don't speak anymore. You just look into my eyes, straight, and masturbate, showing your naughtier side to a stranger, while you feel my pre-cum pouring out on your toes, wetting them, while you caress my cock.
I'm so mesmerized by you that I forgot completely about my own orgasm. I just look at you, giving yourself pleasure, using me, enjoying the sight of the man you made horny, the man who made you wet, too.
And you suddenly explode. Your body throbs, jumps on the train chair, as we pass a station slowly, people on the outside platform not realizing what is happening just a few centimetres under the window border.
Your foot has stopped, too. You got your pleasure, you rest, tired, on the seat. I realise everything has finished when you put away your foot, back to the ground. I grab my cock, put it back inside my trousers.
"Don't you dare! Pull it out again," you command.
I execute. Can't resist you, anyway. As the train leaves the station again, even if I fear some new passenger could enter our compartment, I keep my sex out in the open.
And then you do something I would not expect. You stand up, you approach me, lift your dress and sit astride me, guiding my cock to your entrance, in a single smooth movement. When you lower your lips on mine, when we kiss for the first time, I'm already deep inside you.
You ride me, jumping up and down on my cock, pouring your juices on my shaft and balls, moaning so loud I'm sure someone hears you, from the nearest compartments.
"I need to cum again, I need to cum again," you whisper in my ear as you fasten your pace, "Make me cum again, don't you try cumming before me, fuck me harder, fuck me deeper…"
Your dirty words make me horny, too.
"Mmm… Yes… I'm fucking your wet cunt, I'm destroying it, I'm stretching your pussy apart…"
You seem to have lost all control on your thought, your mouth, your behaviour.
"Such a big cock… Mmm… Such a big, stranger's cock inside my dirty pussy… Fuck me… Fuck me hard… Oh god… mmm… Fuck me… I'm cum-"
Reality is, you're the one fucking me. You push your body down to me, you wiggle your ass on me, using my cock as a simple tool to reach your innermost places, as another orgasm hits your body and mind. And I just can't stand it anymore, too. As your muscles squeeze my cock inside you, I cum, filling you with my white, hot jizz, spurt after spurt, pulsating deep inside your body.
You stay there, sitting on me, your head resting on my shoulder, for a while. Tired, satisfied, as I am. Then you stand up, wiggling your body to push out all of my juices from you, on my cock, on my balls.
"I never said you could cum," you whisper into my ear before standing up. I know you are right. It's my fault: I'm not used to be used like this.
Then you sit down on your seat again, you grab some tissues from your bag and bend to clean my cock, covered in our juices. Your fingers are now tender, delicate. I feel you aren't unsatisfied, even if you pretend you'd want more.
When I look at you again, when you rest back to your seat once more, you are sweat, dirty, exhausted.
And yet, even if we are finally approaching the city, we both know it's not the end.
"Dinner, tonight?" I ask.